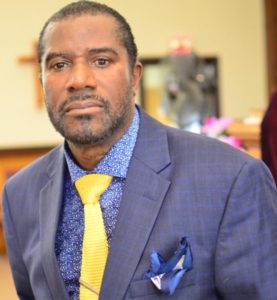 Rev. Dr. Earl C. Johnson
Pastor
Greater Grace Christian Church
Youngsville, North Carolina
Dynamic, trusted and capable professional with years of proven pastoral and service-focused leadership experience, paired with a related and solid educational foundation. Able to attain success in both team player and independent contributor capacities. Collaborate with individuals and groups at all levels; adaptable enough to excel in any circumstance. Seeking a role that will complement imminent Ph.D. studies.
CORE COMPETENCIES
Inspirational Leadership | Education & Instruction | Collaborative Problem Solving | Communication Interpersonal Relationships | Community Engagement | Time Management | Organization & Prioritization Spiritual Guidance | Mentorship | Spanish –Basic Competence | MS Office | Apple & PC Systems
PROFESSIONAL EXPERIENCE MARYWOOD UNIVERSITY, SCRANTON, PA 2017-2019
Professor of religion and religious studies .

Teach on an undergraduate level, provide leadership, guidance, consultation, and expert advice .

Assist student in projecting a world-view, constructing an ideology that speaks to their beliefs .

Utilize Doctorate in Urban Ministry to give students a fresh perspective on religious interpretation .

Meet university guidelines and deadlines in a timely fashion .

Promote unity and diversity within the classroom and enhance corporate and peer learning
AMERICAN BAPTIST CHURCHES, VALLEY FORGE, PA 2016- CONSULTANT .
Provides expert advice in the field of coaching, mentorship, and leadership development .

Focus on congregational education, accountability, communications among membership .

Engaged in human resources, marketing, finance, numerical growth and many other specialized fields .

Guide congregations through conflicts, community development, pastoral selection, biblical teaching .

Troubleshoot problems that arise within a given congregation, perform in an advisory capacity
SHILOH BAPTIST CHURCH, SCRANTON, PA 2016-PRESENT INTENTIONAL INTERIM LEADER .
Leading a congregation through leadership development and conflict resolution, personal coaching .

Advance multiple tools that can promote the congregations standings in the community .

Provide timely and contemporary messages on Sunday's, review congregational by-laws, operations .

Discover ways to prepare a faith community in selecting a new leader/pastor and moving forward .

Provide power-point biblical lessons and leadership training to improve congregational capacity THE
DREAM CENTER, RALEIGH, NC 2014 – PRESENT FOUNDER
Focus diligently on leadership development in serving as a trustworthy coach, motivational speaker, teacher and overall point-person for those seeking personal development

Also provide keynote speaker and leadership seminar services as requested

Guide Center attendees to transform their dreams into actionable plans; instruct individuals and teams on public speaking, productivity and other topic areas

Target clients' business, personal and professional growth via study and practical application to move clients' objectives forward time-proven leadership tactics DR. EARL C. JOHNSON Continued

Wrote and promote three books whose principles can be used for any organizational or church setting; more may be seen at successdreamcenter.com
MARTIN STREET BAPTIST CHURCH, RALEIGH NC 2009 – 2016 SENIOR PASTOR
Fueled leadership development amongst a diverse congregation by spearheading creative initiatives in a welcoming spiritual environment; included food drives, mission trips for natural disasters and the like

Drove a sound evangelical design that served to support the Church's social and spiritual vision; called on John Maxwell leadership training model and a student-teacher model in teaching youth

Supervised, coached and advised a 15-person staff team on how to best deliver community support, as well as how to effectively mentor and teach others

Led the establishment of strategic planning efforts and sustainable programs

Engaged in political theology; provided political analysis for local and national TV, radio and newspapers
MOUNT PLEASANT BAPTIST CHURCH, NEWARK, NJ 2000 – 2009 PASTOR
Managed Church, operations as a spiritual mentor; included resolving conflict amongst members of the congregation, training leaders within the Church and overseeing budgetary functions

Oversaw workflows of personnel and led the team in solving doctrinal issues

Prepared and delivered weekly sermons for delivery at church services

Planned missions, evangelistic programs and congregational recruitment; encouraged members to invite friends as part of its growth strategy

Distributed pre- and post-surveys to determine levels of church health regarding each event; used results in quarterly and other reports

Represented the Church by visiting the sick, volunteering and leading others to a spiritual life

Addressed issues with the congregation e.g. gender, dress code, sexism, masculinity, women in the Church, etc.; used case studies, PowerPoints, guest speakers and town hall meetings to discuss

Played a key role in downsizing processes, mission/vision statement development and quarterly business meetings
MAIN STREET BAPTIST CHURCH, CLIFTON FORGE, VA SENIOR PASTOR
Motivated, persuaded and supported members of the congregation

Hosted quarterly meetings and developed service initiatives, as well finance and budget meetings Discussed overall Church health and planned for regular "check-ups" to ensure smooth operations
BELL SOUTH, CHARLOTTE, NC 2000 – 2001 CONSULTANT
Marketed and sold alarm systems

Recognized as being the top sales person in the company due to cold calling, lead development and commission earning acumen

Surpassed all established sales objectives and received bonuses as a result DABNEY LANCASTER
COMMUNITY COLLEGE, CLIFTON FORGE, VA 1999 – 2000 ASSISTANT PROFESSOR
Instructed World Religion and Writing courses

Taught students at the undergraduate level on an as-needed or adjunct basis
EDUCATION & CREDENTIALS
Ph.D., Public Policy, Union Institute & University (2020)
D. Min., Urban Ministry, New Brunswick Seminary
Master of Divinity, Virginia Union University
Bachelor of Arts, Journalism, Virginia Union University
Certificate, Youth Theology, Princeton Seminary
SELECTED AWARDS
NAACP Pastor of the Year | 10th Annual Fair Housing Award | Religion Service Award City of Raleigh Fellowship Award | National Panhellenic Council for Outstanding Leadership Habitat for Humanity Award | Local Humanitarian Award
MEMBERSHIPS & INVOLVEMENT
Alpha Phi Alpha Fraternity | Board of Common Cause, NC National African American Journalist | NABJ | John Maxwell Certified Group Member President, Raleigh Wake Citizens Association (RWCA) President for four years Also served as President of one of the largest AA political groups
PUBLICATIONS
Book Author, "Prophetic Speech in a Non-Prophetic Age", 2014
Book Author, "Growth Strategies in Traditional African American Churches, 2014 (Both can be found on Amazon and Barnes & Noble online)
News Reporter, Richmond Afro American
News Reporter, Stringer Wall Street Journal
News Reporter, Richmond News Leader
Also, a Guest Speaker at venues cross the U.S. and written for various other papers and magazines Dr. Johnson is Married and is the proud Father of two wonderful daughters