July 1, 2018 @ 10:00am – Guest Speaker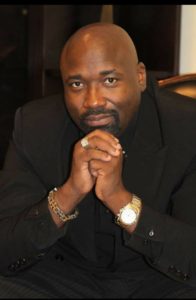 Bishop Thomas E. Lee, D.D. A Dynamically Gifted Preacher, Teacher, Vocalist, Counselor & Revivalist
The Bishop Thomas Edward Lee was born during the mid 60's in the county of Bertie, the city of Windsor and the state of North Carolina to Hannah Mae Lee and William Thomas Bryant. He was educated in the Bertie County Public School System where he is a 1983 graduate of Bertie High School. In 1982, before graduating from high school, he was sworn into the Armed Forces of the United States as a Foot Soldier and served in the 1-119th Infantry as a National Guardsman and later assigned to the 230th Signal Brigade in the field of Communication.
Bishop Lee preached his initial sermon on March 13, 1988 and was ordained on July 31, 1988. He was tutored in Ministerial Ethics and Bible Doctrine by the late Reverend Doctor John W. Law at the Sandy Point Baptist Church in Windsor, North Carolina. He is a graduate of Shaw University where he obtained his Bachelor of Arts Degree with Sociology as the major and Religion as the minor. He holds a Doctorate of Divinity from Apex School of Theology.
Bishop Lee has further broaden his knowledge of ministry by being affiliated with the Progressive National Baptist Convention USA, Incorporated and the National Baptist Convention USA, Incorporated. He has served as the past President of the West Roanoke Union and the Board of Directors for (Choanoke Area Development Association).
Jeremiah 3:15 says, "and I will give you Pastor's according to mine heart, which shall feed you with knowledge and understanding." Bishop Thomas E. Lee has been the proud Pastor for the past thirty (30) years of the Greater Wynns Grove Baptist Church in Colerain, North Carolina. God has blessed him with four Ordained Elders of which two are pastors, six ministers, a profound team of ministry leaders, and a spirit-filled congregation. He is also the former pastor of the Luella Baptist Church of Lewiston, North Carolina and the Menola First Baptist Church of Woodland, North Carolina.
1 Timothy 3:1 says, "this is a true saying, if a man desire the office of a bishop, he desireth a good work." On August 28, 2005, Bishop Thomas E. Lee was consecrated as the 2nd Regional Bishop of the New Vision Worldwide Fellowship of Churches – Kansas City, Missouri under the tutelage and leadership of the Presiding Prelate, Bishop Larry B. Aiken.
Among all the gifts and talents with which God has blessed Bishop Lee with, none is more meaningful and fulfilling to him than Pastoral Ministry. He is very sensitive to the spiritual needs of individuals, and therefore focuses his ministry primarily, but not exclusively, toward persons who are hurting—not only in the church, but wherever help is needed. Bishop Lee seeks to empower and uplift all humanity through the life-changing, uncompromising Word of God. As a twenty-first century Pastor, he has taken the gospel into the national and international communities of the world. He has preached several times in Cap-Haitian, Haiti with an interpreter and is a strong supporter of Grace Divine School of Haiti. He is well known on the also island of Nassau, Abaco, and Freeport, Bahamas. The Lord has afforded him opportunities to preach on those island at least several times a year.
For the past twenty-eight (28) years, Bishop Thomas E. Lee continues to fall in love over and over again as the proud husband of the formerly known Sharon Renita Bridgett.
July 15 & 22 @ 10:00am – Guest Speaker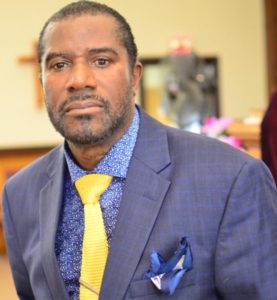 Earl Cornell Johnson, M.Div., D.Min.
Certified Independent John Maxwell Team
Success Dream Center, LLC
The Reverend Doctor Earl C. Johnson, a native of South Boston, Virginia, is a socially active preacher with more than 25 years of ministerial experience, including 20 years in the pastorate and over fifteen years of corporate and organizational management experience.
He holds a Bachelor of Arts in Journalism and a concentration in religion from Virginia Union University; a Master of Divinity Degree from The Samuel Proctor School of Theology at Virginia Union University in Richmond, Va.; and an earned Doctor of Ministry Degree in Metro-Urban Ministry from New Brunswick Theological Seminary, the nation's oldest seminary, located at Rutgers University in New Brunswick, NJ.
As a theologian, leadership trainer, coach, motivational speaker and trainer husband and father Dr Johnson brings an array of experience to the personal development field. Currently, he is a John Maxwell Independent Certified Team Member.
Additional community involvement includes: Board member, Common Cause; Board member, SERA (Southeast Raleigh Assembly); Board member, General State Baptist Convention of North Carolina; and also a member of RIMA (Raleigh Interdenominational Ministerial Alliance), the State NAACP, Habitat for Humanity, the Raleigh-Wake Missionary Baptist Association Board of American Baptists of the South, nearly 30 years of speaking and preaching.
In the academic area, Dr. Johnson was a former adjunct professor at Essex County Community College in Newark, NJ and at Burlington County Community College in Burlington, NJ, Buena Vista HS, where he taught world religion, homiletics, public speaking, African American religion and medical and Christian ethics.
Dr. Johnson is a published author of three books books which speaks to the needs of socialized communities, Church Growth, the pathology that plague all communities, and the erosion of individual values, along with coaching and leadership training.
Awards
Religion awards from NC African American Women Association
10th Annual Fair Housing Award
NAACP pastor of the year award
City of Raleigh Men's Fellowship Award
City of Raleigh Fair Housing Board
National Pan Hellenic Council of GRA for outstanding Leadership
Outstanding contributions to Wake County Child Welfare Families
Achievements
John Maxwell Certified Independent Team Leader
Advocates for Education and leadership in community service/dedication
Majestic Leaders Approaching Philippi
Articles in the News & Observer Newspaper
Former Award Winning Reporter
Articles in the Washington Post
Radio program each Sunday at Shaw University 10am
Interviewed on NPR
Interviewed by the GRIO
Interviewed by Gazette Virginia
Perform seminars across the Nation
Jailed during Moral Monday protest
Work with inner city youth
Created church related programs for coaching and leadership development
Noted speaker nationwide
Developed a Youth Leadership Academy
Volunteers and advises Habitat for Humanity
Please select from the following seminars which one is best suited for your organization. Prices can be negotiated but usually begin a $450 for a 2-4 hour session, which does not include travel, food and hotel expense if there is a weekend retreat.
For a session over four hours the cost is only $100 difference. You can choose from the following seminars or workshops.
1. Coaching
2. Leadership Development
3. Mentorship
4. Motivational Speaking
5. Evangelism
6. Church Growth Strategies
7. YouthMax
8. Becoming a person of Influence
9. Connecting Principles
10. High, Average, Low Achievers
11. Productivity Blueprint
12. Putting your Dreams to Test
13. Creating a Roadmap to Success
14. How to be a real Success
15. Intentionality
***Please notice that I also offer to any company, church, organization, etc., a free Lunch and Learn in which I give a presentation on leadership principles. Remember, this is free for local groups, you just let me know when and where.
Please see my website at www.JohnMaxwellGroup.com/earlcjohnson and a second Website at www.SuccessDreamCenter.com for more information or call 919-710-4446
"Remember, very little is needed to make a happy life; it is all within yourself and your way of thinking."